Hard Drive Data Recovery with Flat Rate Options
Our recovery prices start at $350, which includes the following issues: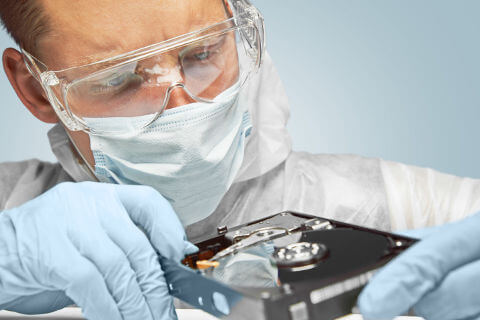 Failed PCB (printed circuit board), which can sometimes cause a clicking noise.
Corrupt MBR (Master Boot Record).
Corrupt partition table.
Damaged interface, such as a USB or SATA connector.
Failed fuse, capacitor or resistor.
Bad motor controller.
Failed cache memory.
Failed voltage regulator.
Sometimes the data recovery process is much more complicated. In these situations, we will provide a free estimate, which will detail the exact cause of the failure and include a not-to-exceed (NTE) quote. If you choose not to proceed for any reason, we will return your drive to you free of charge.
Our Hard Drive Recovery Process
When you send your hard drive to one of our laboratories, your case receives attention from an expert engineering team.
Our hard drive data recovery process includes the following steps:
Our Engineers Evaluate Your Hard Drive. We will determine the exact cause of the hard drive failure. This will include failure details and a turnaround time estimate. If you decide to proceed, we move to the next step.  If you decline, we will return your hard drive in its original condition using your selected shipping option.
We Begin the Recovery Process. Datarecovery.com's engineers treat mechanical damage, water accumulation, electronic issues, and file corruption using specialized technology to provide the best possible recovery.
Our Engineers Verify the Recovered Information. If you have provided a list of essential files, we will confirm the recovery at this stage of our process. We securely test your files with dedicated tools while taking precautions to protect your privacy.
We Return Your Files on Your Choice of Media. We will then return your data on a hard drive, flash drive, or other type of device. You only pay a full charge for your recovery if your requested files are restored to a completely functional condition.
Datarecovery.com staffs highly trained engineers, and with our commitment to research and development, we can recover data from nearly any type of damaged hard drive. Our teams can treat all types of failures effectively and efficiently, and we offer an emergency service for time-sensitive cases. We also support our customers with a no data, no charge policy.
When your hard drive fails, you need fast service from a world leader in professional data recovery services. Datarecovery.com can help, and we're ready to get started on your case.
Call 1.800.237.4200 for more information or to arrange an evaluation.