Hard Drive Data Recovery
We currently offer a free evaluation and free shipping for all hard drive data recovery services except SSD or fire/water damaged drives.  The average cost is roughly $700 but quotes vary greatly depending on the cause of the data loss and the time requires to recover the data. We do not employ any  tricks or gimmicks like some of our competitors. Once we provide a quote, the price cannot exceed that amount. Our services cover any type of failure that a hard drive may experience. There are no extra costs or fees except return media, if applicable. Here are just a few of the problems we encounter daily: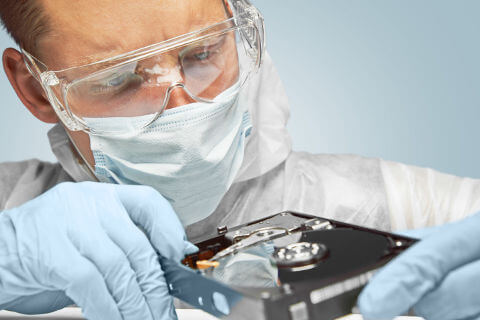 Physical problems due to a drop or bumped drive.
Disk read/write head failure.
Power surge electronic damage.
Failed PCB (printed circuit board), which can sometimes cause a clicking noise.
Corrupt MBR (Master Boot Record).
Corrupt partition table.
Damaged interface, such as USB or SATA connector.
Failed fuse, capacitor or resistor.
Bad motor controller.
Failed cache memory.
Failed voltage regulator.
Our Hard Drive Recovery Process
When you send your hard drive to one of our laboratories, your case receives attention from an expert engineering team.
Our hard drive data recovery process includes the following steps:
Our Engineers Evaluate Your Hard Drive. We will determine the exact cause of the hard drive failure.
We Begin the Recovery Process. Datarecovery.com's engineers treat mechanical damage, water accumulation, electronic issues, and file corruption using specialized technology to provide the best possible recovery.
Our Engineers Verify the Recovered Information. If you have provided a list of essential files, we will confirm the recovery at this stage of our process. We securely test your files with dedicated tools while taking precautions to protect your privacy.
We Return Your Files on Your Choice of Media. We will then return your data on a hard drive, flash drive, or other type of device. You only pay a full charge for your recovery if your requested files are restored to a completely functional condition.
Datarecovery.com staffs highly trained engineers, and with our commitment to research and development, we can recover data from nearly any type of damaged hard drive. Our teams can treat all types of failures effectively and efficiently, and we offer an emergency service for time-sensitive cases. We also support our customers with a no data, no charge policy.
When your hard drive fails, you need fast service from a world leader in professional data recovery services. Datarecovery.com can help, and we're ready to get started on your recovery.
Call 1.800.237.4200 for more information.