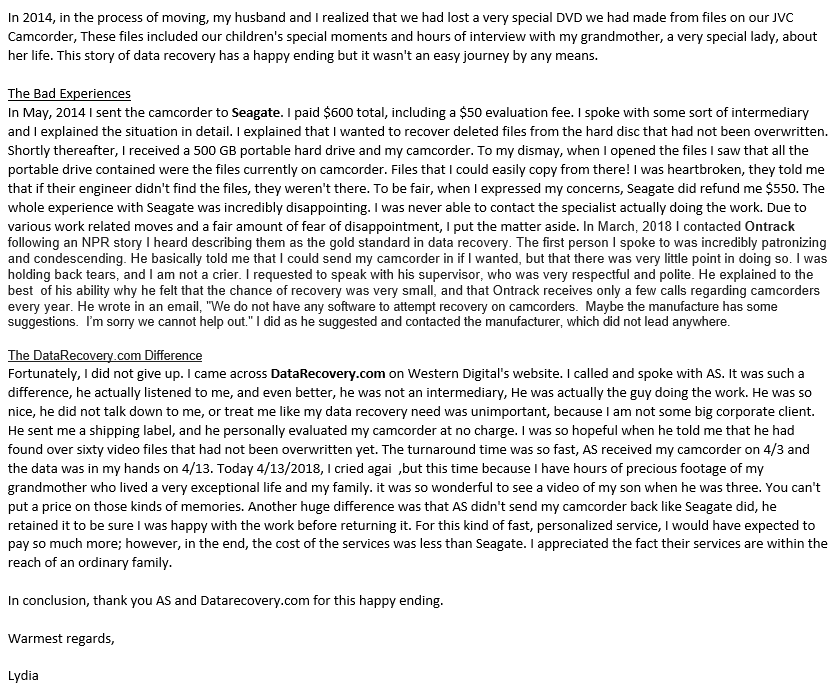 Full Text
In 2014, in the process of moving, my husband and I realized that we had lost a very special DVD we had made from files on our JVC Camcorder, These files included our children's special moments and hours of interview with my grandmother, a very special lady, about her life. This story of data recovery has a happy ending but it wasn't an easy journey by any means.
The Bad Experiences
In May, 2014 I sent the camcorder to Seagate. I paid $600 total, including a $50 evaluation fee. I spoke with some sort of intermediary and I explained the situation in detail. I explained that I wanted to recover deleted files from the hard disc that had not been overwritten. Shortly thereafter, I received a 500 GB portable hard drive and my camcorder. To my dismay, when I opened the files I saw that all the portable drive contained were the files currently on camcorder. Files that I could easily copy from there! I was heartbroken, they told me that if their engineer didn't find the files, they weren't there. To be fair, when I expressed my concerns, Seagate did refund me $550. The whole experience with Seagate was incredibly disappointing. I was never able to contact the specialist actually doing the work. Due to various work related moves and a fair amount of fear of disappointment, I put the matter aside. In March, 2018 I contacted Ontrack following an NPR story I heard describing them as the gold standard in data recovery. The first person I spoke to was incredibly patronizing and condescending. He basically told me that I could send my camcorder in if I wanted, but that there was very little point in doing so. I was holding back tears, and I am not a crier. I requested to speak with his supervisor, who was very respectful and polite. He explained to the best  of his ability why he felt that the chance of recovery was very small, and that Ontrack receives only a few calls regarding camcorders every year. He wrote in an email, "We do not have any software to attempt recovery on camcorders.  Maybe the manufacture has some suggestions.  I'm sorry we cannot help out." I did as he suggested and contacted the manufacturer, which did not lead anywhere.
The DataRecovery.com Difference
Fortunately, I did not give up. I came across DataRecovery.com on Western Digital's website. I called and spoke with AS. It was such a difference, he actually listened to me, and even better, he was not an intermediary, He was actually the guy doing the work. He was so nice, he did not talk down to me, or treat me like my data recovery need was unimportant, because I am not some big corporate client. He sent me a shipping label, and he personally evaluated my camcorder at no charge. I was so hopeful when he told me that he had found over sixty video files that had not been overwritten yet. The turnaround time was so fast, AS received my camcorder on 4/3 and the data was in my hands on 4/13. Today 4/13/2018, I cried agai  ,but this time because I have hours of precious footage of my grandmother who lived a very exceptional life and my family. it was so wonderful to see a video of my son when he was three. You can't put a price on those kinds of memories. Another huge difference was that AS didn't send my camcorder back like Seagate did, he retained it to be sure I was happy with the work before returning it. For this kind of fast, personalized service, I would have expected to pay so much more; however, in the end, the cost of the services was less than Seagate. I appreciated the fact their services are within the reach of an ordinary family.
In conclusion, thank you AS and Datarecovery.com for this happy ending.
Warmest regards,
Lydia