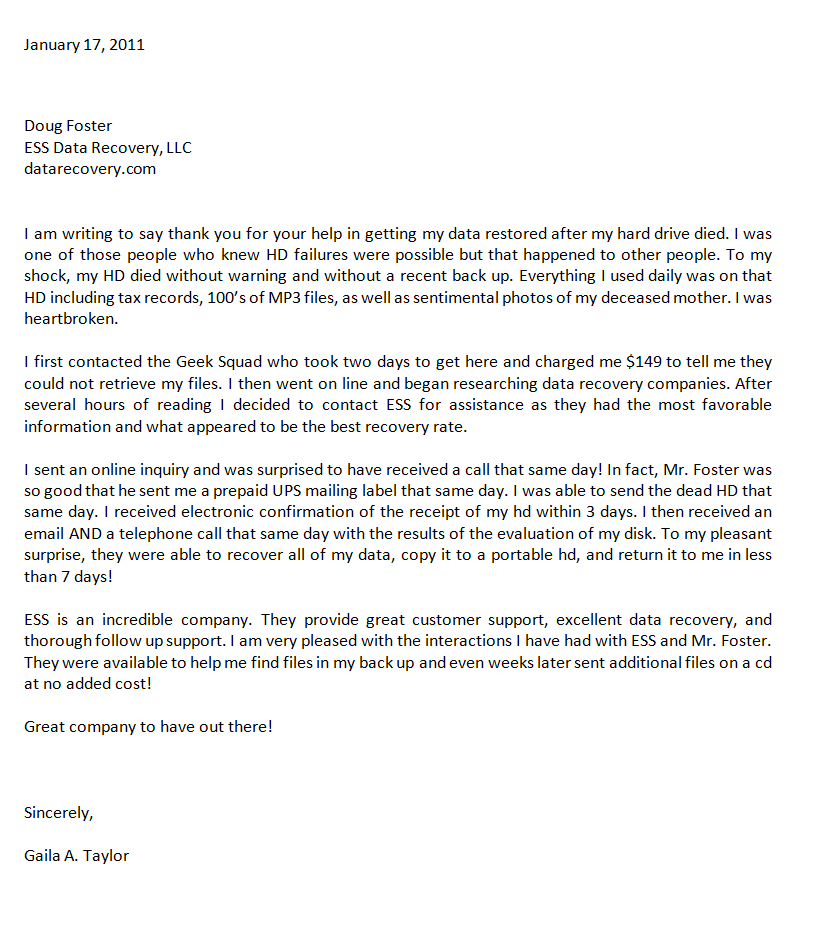 Full Text
January 17, 2011
Doug Foster
ESS Data Recovery, LLC
datarecovery.com
I am writing to say thank you for your help in getting my data restored after my hard drive died. I was one of those people who knew HD failures were possible but that happened to other people. To my shock, my HD died without warning and without a recent back up. Everything I used daily was on that HD including tax records, 100's of MP3 files, as well as sentimental photos of my deceased mother. I was heartbroken.
I first contacted the Geek Squad who took two days to get here and charged me $149 to tell me they could not retrieve my files. I then went on line and began researching data recovery companies. After several hours of reading I decided to contact ESS for assistance as they had the most favorable information and what appeared to be the best recovery rate.
I sent an online inquiry and was surprised to have received a call that same day! In fact, Mr. Foster was so good that he sent me a prepaid UPS mailing label that same day. I was able to send the dead HD that same day. I received electronic confirmation of the receipt of my hd within 3 days. I then received an email AND a telephone call that same day with the results of the evaluation of my disk. To my pleasant surprise, they were able to recover all of my data, copy it to a portable hd, and return it to me in less than 7 days!
ESS is an incredible company. They provide great customer support, excellent data recovery, and thorough follow up support. I am very pleased with the interactions I have had with ESS and Mr. Foster. They were available to help me find files in my back up and even weeks later sent additional files on a cd at no added cost!
Great company to have out there!
Sincerely,
Gaila A. Taylor