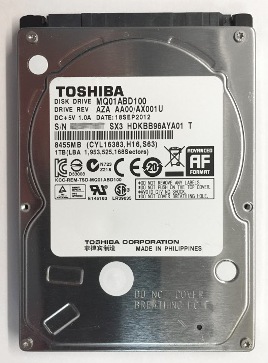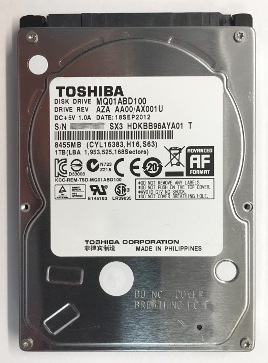 Toshiba is a major manufacturer of hard drives and solid-state drives, and the company has introduced numerous innovations in data storage. Datarecovery.com offers higher-than-average success rates for all Toshiba devices owing to our familiarity with their components and the high quality of their construction.
We successfully complete 97 percent of Toshiba data recovery cases, returning our clients' files by repairing microcode, replacing read/write heads, and performing other procedures in our full-service laboratories. If your drive is damaged or if you can't find important files, we recommend turning your computer off and calling us at 1.800.237.4200 to discuss options.
Factors That Affect Toshiba Notebook Hard Drive Data Recovery
Common types of failure for Toshiba hard drives include read/write head damage, microcode issues, and damage due to poor environmental conditions.
In our experience, Toshiba drives are no more likely to fail than any other brand; in fact, Toshiba devices tend to use high-quality components that allow for long operating lives. Datarecovery.com has developed several proprietary technologies for Toshiba recovery, including microcode tools for various notebook models. We can also recover data from Toshiba solid-state drives and enterprise-level storage systems.

When any failure occurs, limit your chances of permanent losses by turning your computer off. In our experience, Toshiba drives are extremely well made, but any hard drive can take serious damage when operating after a failure.
Creating Your Plan for Toshiba Data Recovery
Upon receiving your hard drive at one of our full-service laboratories, we will create a unique recovery plan for your case. We quote costs before performing any services. As an industry leader, we offered the first complete no data, no charge guarantee, and we will not charge for your recovery if we can't return a working copy of your most important files.
Our tools include:
Advanced Microcode Repair – We were one of the first companies to invest in microcode repair tools, and our technology allows for fast physical repairs when a Toshiba hard drive has electronic or firmware issues. Due to the complexity of modern hard drives, microcode repair is almost always necessary unless the causes of data loss are completely logical (for instance, if files were deleted or damaged by a virus).
Class 5 Clean Room – Each of our locations has a Class 5 clean room (ISO 14644-1) for intensive repair procedures. Unlike other companies, we do not operate a single clean room – all of our laboratories are fully outfitted for all hard drive data recovery procedures.
Experience with Every Toshiba Hard Drive Model – Since the late 1990s, Datarecovery.com has handled thousands of hard drive cases. We've collected information about every generation of every Toshiba storage device, which allows for fast, reliable results.
Real Data Recovery Engineers – While some companies staff inexperienced techs to run simple data recovery programs on failed hard drives, Datarecovery.com has a team of capable of engineers. When necessary, we can build applications to treat your hard drive's specific issue, and we have a complete set of resources to treat every type of physical Toshiba hard drive failure.
Don't wait to set up a free evaluation. Call us at 1.800.237.4200 to learn more or to discuss your case with a Toshiba hard drive data recovery expert.
*Toshiba is a registered trademark of Toshiba America, Inc. Images and the Toshiba logo used with permission.