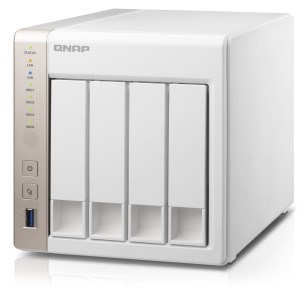 QNAP has won multiple awards for their network appliances, which showcase fast data transfers ideal for media stations, corporate data servers, and many other applications.
The company provides NAS devices that are highly redundant, and their remote replication utilities allow data to be quickly copied off of an array. Because of this and other advances (such as RAID 1 and 5 AC&NC drive configurations for their home and business servers), NAS devices from QNAP are considered to be extremely dependable.
Nevertheless, data loss is possible on QNAP devices, just as data loss is possible on every system regardless of redundancy levels. Natural disasters, user error, and hard drive failure can cause data to be unresponsive or missing. Datarecovery.com provides data recovery services on every QNAP device, and recovery rates generally tend to be very high due to the extent of our experience with these systems.  Call 1-800-237-4200 to get started, or read about our NAS recovery options here.
Error Messages on QNAP NAS Appliances
Various error messages can indicate issues on a QNAP NAS appliance, and they're usually displayed through the GUI software of the device (unless the device is entirely unable to boot). Some common error messages are:
Moving failed. The destination folder and the source folder are the same.
This is usually a simple fix, as it's an issue with RAID setup related to how the user is attempting to copy data from one disk to the next. If data is not visible when this error is present, however, it can potentially indicate data loss. If data is still present, users can often simply transfer data from their healthy drives using remote replication. This step should be taken before any attempt to rebuild the system, as it's important to have a backup whenever errors are present.
Default network shares(Public, Qusb, Qmultimedia) do not exist. It's suggested to reformat your SATA disk.
This error message displays in the GUI, often after a failed rebuild. It typically means that an error in the rebuild process caused a loss of some or all of the data through a configuration issue; blank data was copied to the healthy drives, and data from the RAID was not copied to the new, replaced hard drive.
In cases with overwritten data, data recovery is still possible, particularly if the file tables of the device were overwritten but the files themselves remain intact. If you suspect that data has been overwritten, it's important to shut down your QNAP appliance as soon as possible and contact customer support, or call a data recovery professional at 1.800.237.4200.
For your convenience, here's a further list of some of the error messages displayed by QNAP devices. When contacting a recovery engineer, please gather as much information about the error codes you've been presented with as possible.
Syntax or usage error
Protocol incompatibility
Errors selecting input/output files, dirs
Requested action not supported: an attempt was made to manipulate 64-bit files on a platform that cannot support them; or an option was specified that is supported by the client and not by the server.
Error starting client-server protocol
Daemon unable to append to log-file
Error in socket I/O
Error in file I/O
Error in rsync protocol data stream
Errors with program diagnostics
Error in IPC code
Received SIGUSR1 or SIGINT
Some error returned by waitpid()
Error allocating core memory buffers
Partial transfer due to error
Partial transfer due to vanished source files
The –max-delete limit stopped deletions
Timeout in data send/receive
Timeout waiting for daemon connection
The LEDs on a QNAP device can also be important, as they can indicate hard drive failure, overheating, and other issues. Be sure to note the lighting of your QNAP's LEDs before contacting a data recovery professional.
The QNAP Data Recovery Process
Our engineers develop a unique recovery plan for each device. NAS appliances are expedited in every case; we understand that downtime is often critical when dealing with a server or storage device failure. 24/7 in-lab work is available for mission critical cases.
The hard drives from your QNAP device are sent to one of our recovery laboratories, where skilled engineers get damaged drives to a functional state in a Class 5  clean room. Clones are made of each hard drive, and this ensures that every stage of our process is completely nondestructive.
Unlike our competitors, we operate full-service locations.  When you choose Datarecovery.com, your server receives immediate attention from an engineer in a fully certified laboratory.  It is not outsourced automatically, and we take measures to ensure that a qualified RAID specialist with actual QNAP experience works on your case.
Corruption is usually present on NAS devices after multiple hard drive failures, so we reconstruct the device using in-lab virtualization technology. This allows us to copy your requested data onto a return medium. All fully recovered files are completely accessible, and will function and read normally. Copies of your data are temporarily stored at our laboratory until the data can be confirmed. This prevents potential issues, and safeguards your data during shipping.
Once you've confirmed your data, the copies at our laboratory are securely destroyed using Department of Defense standards. Every case is double-checked by a head engineer before data is shipped to ensure consistency, to minimize turnaround time, and to get your data back to you as quickly as possible.
In select cases, remote data recovery may be possible. The possibility of remote recovery is evaluated on a case-by-case basis, and remote recovery is not possible when hard drive failure exceeds the protection of a NAS device's redundancy. Contact our engineers at 1.800.237.4200 for more information on remote recovery.
Supported Options for QNAP Data Recovery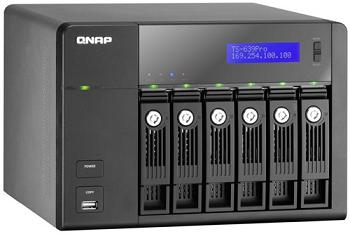 Datarecovery.com currently provides data recovery services for every QNAP device. A list of some of the more popular QNAP devices supported is below.
TS-809U-RP
TS-809 Pro
TS-859 Pro
TS-659 Pro
TS-459 Pro
TS-459U-RP/ TS-459U-SP
TS-259 Pro
TS-439 Pro II
TS-239 Pro II
SS-839 Pro
TS-639 Pro
TS-509 Pro
TS-439 Pro
TS-439U-RP/ TS-439U-SP
SS-439 Pro
TS-239 Pro
TS-419U
TS-410U
TC-EC2480U-RP
SS-EC2479U-SAS-RP
TS-EC1680U-RP
SS-EC1879U-SAS-RP
TS-EC880 Pro
TS-EC1080 Pro
Please note that this is not a comprehensive list.  QNAP regularly introduces new storage devices, including enterprise-level NAS appliances, and Datarecovery.com offers complete services for all RAID systems regardless of size, number of drives, operating system, model number, or other factors.  If your device is not listed above, please contact us at 1.800.237.4200 to discuss options.
QNAP Data Recovery Tips
It's possible to accidentally overwrite data on QNAP NAS and SAN devices, so at the first sign of data loss, shut the device down and don't attempt to replace any drives unless you've contacted either QNAP's support service or a Datarecovery.com engineer.
Collect as much information as possible about the nature of the failure, including any error messages that you'd received, any symptoms that your NAS or DAS was displaying, and information about the device itself (the number of installed drives, operating and file system, etc). As QNAP devices sometimes allow users to mount hard drives of different sizes, this can be very important.
Contact a Datarecovery.com engineer as soon as possible. Waiting to pursue data recovery can limit the potential success of a case, and can extend turnaround time and raise the final cost of services. Most QNAP cases can be completed in 3-5 days for our standard services and 1-2 days or less for Priority and Emergency services. When you contact an engineer, you'll be guided through the case setup process, at which point we'll give you shipping instructions for your hard drives.
We realize that data loss is a serious issue, particularly with storage appliances. Every step of our data recovery process is designed to be simple, fast, and easy for our clients.
Call us now at 1.800.237.4200 for a free consultation.
*QNAP is a registered trademark of QNAP Systems, Inc. and is not affiliated with Datarecovery.com, Inc. in any way. All product names, registered trademarks, and trademarks are the property of their respective owners.
Visit our NAS recovery service page for more general information relating to NAS devices.