Factors That Affect Netgear ReadyNAS Data Recovery
The Netgear ReadyNAS* is an innovative series of network attached storage (NAS) devices designed primarily for small offices and home computer users. ReadyNAS is remarkably powerful and reliable, despite its entry-level price tag, and the series is popular for its automatic syncing, ease of use, and built-in RAID protection.
Successful Netgear ReadyNAS* data recovery involves a detailed understanding of the Linux XFS, EXT2, EXT3 file s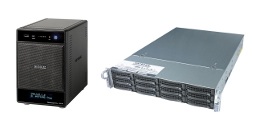 ystem structures along with the standard and custom RAID parity algorithms used by these devices. Oftentimes data loss situations involve corruption of the file system, causing loss of access to all of the files on the device. Multiple disk failures can also cause data loss, despite the redundancy offered by ReadyNAS RAID options.
Datarecovery.com can restore corrupt file systems, replace damaged media, and recover all of the data from your Netgear ReadyNAS, providing fast results through our full-service laboratories in the United States and Canada.
Key features of our Netgear ReadyNAS* data recovery services:
File System Support – We have specialized data recovery solutions for all file systems used with the Netgear ReadyNAS*, including (but not limited to) EXT2, EXT3, EXT4, and XFS.
Simple Data Return Options – Datarecovery.com's engineers can copy all folders to a dedicated external hard drive formatted with the same file system as your original media. In many cases, we can return small files via FTP, giving you immediate access to important data.
On-Site Solutions – While our in-lab services are the most affordable option for home computer users and small businesses, we also offer on-site RAID data recovery for all devices. Call for more details.
Remote recovery is not an option ReadyNAS* due to the high risk of automatic fsck engagement and RAID rebuilding.
An Excellent Track Record – We have performed data recovery services on all Netgear ReadyNAS* systems, and our services feature success rates of over 95 percent. We can also provide references upon request.
Multiple Locations – Each of our laboratories is outfitted for RAID data recovery.  More lab locations means faster turnaround times and higher success rates for our ReadyNAS* customers.
Because the ReadyNAS* can start rebuilding as soon as it is powered on, we recommend keeping your RAID completely unplugged until you can speak with a data recovery specialist.  24/7 services are available for emergencies, and Datarecovery.com provides a no data, no charge guarantee with every ReadyNAS* data recovery case.
For more information or to get a detailed quote from a RAID recovery engineer, call Datarecovery.com now at 1.800.237.4200
* Netgear ReadyNAS* and the Netgear ReadyNAS* logo are registered trademarks of Netgear, Inc.