NetApp provides high-quality NAS and SAN devices, many of which are popular due to their extraordinary durability and incredible capacity for data storage (the NetApp FAS6000 series offers an outstanding 1100 terabytes of storage). Various configurations of NetApp devices are available, including pre-configured servers with built in error notification and alerts.
Due to the precautions built into NetApp devices, complete data loss is very rare. However, data recovery services are sometimes necessary when data is being read incorrectly, when files suddenly appear missing, and when configuration issues or hard drive failures prevent the servers from acting normally.
We've worked with hundreds of NetApp devices, and recovery rates are very high, in part due to their high levels of redundancy and professional features that prevent user errors.
NetApp Server/NAS Data Recovery Procedures
Many NetApp servers can be recovered remotely through a secure Internet connection.  When possible, remote recovery is preferable to both our clients and our data recovery engineers.
By connecting through the Internet to the server at a bit level, engineers are able to fix many types of corruption, resolve configuration issues, and even resolve some hard drive failures (though the failed devices will need to be replaced at the end of the data recovery process). In most situations, NetApp NAS devices simply need to be remounted after recovery procedures are complete, and the entire process can take less than a day. Typically, a NAS or SAN device's full functionality can be restored using remote recovery.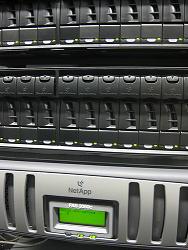 In rare cases, in-lab recovery is necessary for servers. Our engineers assess each situation to make sure that in-lab procedures are only used when it's absolutely critical for the data recovery process, as we understand that downtime is a major issue in all server recovery cases. Onsite NetApp recovery is possible in some instances, and we will discuss all available options to limit expenses.
In these situations, the drives from the NAS, SAN, or RAID must be shipped to one of our laboratories, where we combine standard data recovery techniques with advanced virtualization to simulate the original operating environment of the server.
We create clones of all hard drives to ensure that the process is completely non-destructive. All in-lab server cases are expedited, and 24/7 recovery work is available for extreme situations. All data is handled securely, and every step is taken to ensure efficient processing. In-lab recovery work also has a very high success rate.
NetApp Error Messages
Many error messages can indicate data loss on NetApp devices, and the exact messages displayed will differ depending on your operating environment.
For example, "The system cannot find the device specified" is sometimes displayed in Windows when a NetApp NAS cannot locate its media. However, this can also be displayed for a variety of other reasons–it's best to contact NetApp support if this error message arises, particularly if it only seems to pop up when certain programs are in use.
"Failure of controller" indicates that the controller is functioning improperly and is unable to boot normally. This is different from "Failback of controller," which indicates that the controller failed, but restored to older settings or fell back to another controller; the device should be functioning properly (although maintenance may be necessary) when "Failback of controller" is displayed.
Several hard drives can fail simultaneously on any server, and although this is exceptionally rare, it is a possible scenario. If multiple hard drives have failed, it's vital to keep your NetApp device powered off until contacting a data recovery engineer for further instructions.
To diagnose a specific NetApp error message, call us at 1.800.237.4200 and ask to speak with a NAS specialist.
Supported Devices for NetApp Data Recovery
We support data recovery on every NetApp device, regardless of configuration, operating system, or file system. A partial list of supported products is below. If your device is not listed, please contact an engineer at 1.800.237.4200 to discuss options.
FAS8000 Series
FAS2500 Series
FAS6000 Series
FAS3100 Series
FAS2000 Series
Data ONTAP GX Systems
NearStore on FAS
NetApp VTL
V6000 Series
V3100 Series
Information Server – IS1200
E5500 and All SAN Devices Including Flash-Based Systems

Preparing for NetApp Data Recovery
Do not attempt to initialize or rebuild a NetApp server without contacting a data recovery engineer, as this can compromise data integrity. Collect as much information about the failure as possible, and also some information about the server itself, specifically its configuration, the number of drives (and their capacities), operating system, file system, and any error messages that were logged leading up to the data loss.
The data recovery process is usually very fast, but providing as much information as possible will decrease turnaround time and help to keep costs low. Once you have this information, call us at 1.800.237.4200 and ask to speak directly with a NetApp RAID Engineer.
Visit this page for more contact options or to set up a case online.
*NetApp and its product names are registered trademarks of NetApp Corporation located in Sunnyvale, California netapp.com. NetApp is not affiliated with Datarecovery.com, Inc. in any way. All product names, registered trademarks, and trademarks are the property of their respective owners.