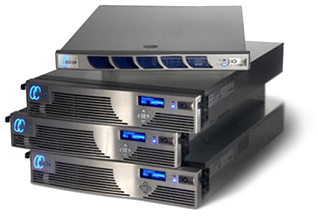 Isilon has been one of the most innovative companies producing NAS appliances, and its products are some of the best in the industry. This is partially due to the devices' clustered approach to data storage, and Isilon's special, proprietary OneFS operating system, which corrects errors in clusters as they're presented. Isilon NAS devices are also able to provide incredible speed, much more storage per gigabyte (again due to clustering) and dependability. They're often used by companies with large storage needs, although the various series of Isilon NAS appliances are sufficient to meet the storage needs of many types of businesses.
As Isilon servers are designed to avoid any data loss, and as their exceptional OneFS operating system (in its fifth revision when this web page was written) detects hardware errors and corruption very accurately, many of the cases that we receive are due to a user error, failed rebuild, or other issue not intrinsic to an Isilon system's original setup. These cases are usually easily recoverable.
It should be noted that data loss and server failure is always possible, regardless of built-in redundancies and error correction. In order to overcome technological difficulties associated with this complex technology, Datarecovery.com laboratories employ custom technology that is not found anywhere else in the world, allowing us to recover the data efficiently and successfully.
The Data Recovery Process
Each case must be carefully evaluated to determine the extent of failure. We try to gather as much information as possible about server cases, especially Isilon cases, as their proprietary OneFS operating system can certainly affect our recovery procedures.
In general, we require that hard drives from a server to be shipped to one of our locations, where damaged hard drives from the NAS appliance are rebuilt in a class 5 clean room, at which point a special clone drive of each damaged and working hard drive is created. As some Isilon servers contain solid state hard drives (such as the 5000S-SSD), and due to the variety of possible failure scenarios with high-end servers, some cases may not require clean room work. However, physical procedures are necessary on a majority of cases, and all cases will begin with all drives being cloned, as this prevents the possibility of damage to the original media at any point in our process.
Data corruption is addressed in each case, and any overwritten data is recovered using proprietary methods. Once a full copy of data is accessible, we are able to copy the data you need (or the entire server) to return media, such as another server or additional drives for the original server. An engineer will discuss return media options on a case by case basis. An encrypted, secure copy of your data is kept at our laboratories until your data has been verified as accessible and working. This prevents permanent loss due to shipping errors, which occur in far less than 1% of cases. When data has been verified, the copy of your data is securely destroyed. We realize that cases involving NAS devices and Isilon servers in particular are often of critical importance. Every possible step is taken to minimize your downtime and return your data as quickly and safely as possible. Many server cases are completed within a day or two, and 24/7 emergency services are available when necessary for all Isilon NAS cases.
Recognizing Isilon Error Indicators
Isilon devices have no single point of failure and boast a "self-healing" cluster, which makes data loss due to disk or node failure exceedingly unlikely. The system will notify its users via onscreen alerts and email alerts when a hard drive fails, and rebuilds are handled in-system to minimize possible user-error. Nevertheless, it's possible for multiple hard drive failures to incapacitate any large server. The number of hard drives that would have to fail to cause data loss varies among Isilon models, but if data has become inaccessible and several hard drive failures have been reported, this is a potential possibility. Failed hard drives in any server should always be replaced as quickly as possible for this reason. Improperly handled rebuilds are unlikely to cause damage to an Isilon system, but again, there is some potential for user error to overwrite data in some specific circumstances. A system administrator should always follow the detailed procedure outlined in Isilon NAS manuals when performing any hardware changes, especially when replacing failed hard drives.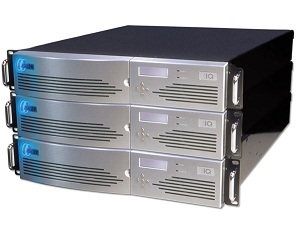 If you've noticed data loss after a hardware change on an Isilon NAS device, power the system down and contact a DataRecovery.com engineer as quickly as possible.
Supported Isilon NAS Devices
We support data recovery on all Isilon data storage devices, including the following NAS devices:
Isilon IQ S-Series: IQ 5400SIQ 5000S-SSD Isilon IQ X-Series: IQ 1920XIQ 3000XIQ 6000XIQ 9000XIQ 12000XIQ 36000XIQ 72000XIQ 10000X-SSDIQ 32000X-SSD Isilon IQ NL-Series: IQ 36NLIQ 72NL If your device isn't listed above, contact us at 1.800.237.4200.
Data Recovery Tips For Isilon Servers
As noted earlier, Isilon servers are designed to avoid failure, and any symptoms of data loss can be serious. If possible, shut down your server and contact either Isilon support or an engineer at DataRecovery.com. Collect as much information about the server as possible, including model number, the number and size of the attached drives, the amount of data that was stored on the system, and any error symptoms. This will help our engineers to minimize your turnaround time, and may help to lower the cost of recovery.
Call us now at 1.800.237.4200 for a free consultation. 
*Isilon and IQ are trademarks or registered trademarks of Isilon Systems, Inc. Isilon Technology (USA), Inc. is not affiliated with Datarecovery.com, Inc. in any way. All product names, registered trademarks, and trademarks are the property of its respective owners.