Ingrasys offers a sturdy selection of NAS devices to clients in the Americas, Europe, and Asia. Their NAS appliances typically use a RAID 5 or JBOD configuration to provide a great deal of storage for small to medium sized businesses.
As with any other type of storage system, Ingrasys NAS devices can fail, resulting in costly data loss. We fully support data recovery services on every Ingrasys NAS, regardless of configuration, operating system, or any other factor.  To start a case, call us today at 1.800.237.4200.
Error Messages And Event Logs On Ingrasys NAS Devices
Ingrasys NAS devices typically use NAStorage web-based management tools. You or your system administrator can load the system log or device log in NAStorage to look for any alerts or error messages that may indicate the cause of the data loss. This can be very helpful when pursuing data recovery, as it will help our engineers to estimate an accurate cost and turnaround time for your case.
To access your system log, open NAStorage and click the "Event and Log" option. Look for critical events in the system and device logs; you can narrow down your search to any events that were logged as errors or warnings by choosing either of these from the drop down menu on the upper right side of the screen.
Most serious events, including overheating and failed hard drives, will be listed in these logs. There will also be indications of failures in the RAID array's configuration that may have been caused by user error or through other unexpected circumstances.
In some cases, data loss may occur without any notifications in the Ingrasys event logs. One common example is data corruption which causes certain files or folders to suddenly disappear from Explorer windows (or in some cases, the files still appear, but are inaccessible). If this is the case, turn the array off immediately and contact a Datarecovery.com engineer.
Ingrasys NAS devices that use a JBOD configuration do not offer any redundancy, and must be backed up regularly. A single hard drive failure on a JBOD can cause data loss; if your Ingrasys NAS uses JBOD and has experienced a drive failure, do not turn the NAS on or try any RAID procedures to recover your data under any circumstances. Full data recovery will be very likely in this type of scenario, but the likelihood of recovery is diminished if the NAS keeps operating after the failure.
Supported Devices for Ingrasys NAS Data Recovery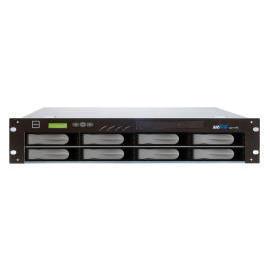 We offer data recovery services for all past and present Ingrasys NAS devices. A partial list of supported NAS appliances is below.
Ingrasys 4220TS-C
Ingrasys 4200RS-C
Ingrasys 4220TS-P
Ingrasys 4200RS-P
Ingrasys 8220TR-C
Ingrasys 8220RR-C
Ingrasys 8220TR-P
Ingrasys 8220RR-P
Ingrasys 4420RS
Ingrasys 8420RR
Ingrasys 4520T amd 4520R
Ingrasys 8520C and 8520R
Ingrasys 4525 Series
This is not a comprehensive list.  If your Ingrasys device is not listed, it is still supported. Please contact us at 1.800.237.4200 to discuss data recovery options for your system.
Data Recovery Technology for Ingrasys NAS Systems
Note any indications of data loss that are/were present on your Ingrasys NAS, including banner alerts, error messages, logged events, or odd behavior that you'd noticed while using the storage server. Also make a note of any actions you'd taken to attempt a data recovery. This includes any rebuild attempts of a failed RAID array, and the results of those rebuild attempts. Remember, do not try to restart or rebuild a failed NAS, as any such attempt can be detrimental to the data recovery process.
Contact one of our trained RAID engineers, who will discuss our recovery procedures and ask several questions about the failure. Our engineers have worked with hundreds of server cases, and will often be able to make a general cost and turnaround time estimate over the phone.
However, we will need to perform an in-lab evaluation of the Ingrasys NAS's hard drives in order to provide a firm, fixed price quote. In most cases, we will not need any hardware from the NAS other than the hard drives. Our engineer will explain how to securely package and ship the drives. Once they have been received, an evaluation will be quickly completed; no data recovery work will take place until we have your approval for both the price and the turnaround time of the data recovery job.
We use the latest data recovery techniques and an on-site Class 5 clean room to expedite every server recovery case, because we realize how important server data is to our clients. We have introduced some of the most innovative and effective techniques used in the industry for NAS devices, and we guarantee all of our services with a no data, no charge policy.
Since 1998, Datarecovery.com has provided world-class NAS recovery services, and we have worked with hundreds of Ingrasys servers since that time. Recovery rates are near 99% for most Ingrasys NAS servers, and many cases can be completed and shipped back in less than two days using our priority services.
For more information or to speak to a NAS data recovery specialist, contact Datarecovery.com at 1.800.237.4200.
All product names, registered trademarks, and trademarks are the property of their respective owners.