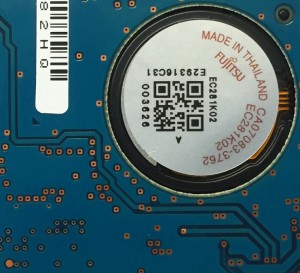 Fujitsu hard drives were extremely popular through the early 2000s, particularly in the notebook market. In our experience, they were well-made drives with average failure rates, and high-quality components ensured a relatively long operating life for Fujitsu hard drive owners.
All hard drives can fail, however, and we have received thousands of Fujitsu drives since our inception. Our engineers can typically perform Fujitsu laptop data recovery within a few days (expedited options are also available). Call 1.800.237.4200 for a free evaluation or read on for more details.
Some common sources of failure for Fujitsu drives include:
Head Crashes – All laptop hard drives are somewhat susceptible to read/write head failures (commonly referred to as "crashes") since laptop computers are more likely to be dropped or mishandled. This increases the chances of a mechanical malfunction. Fujitsu drives are in older laptops (2009 and earlier), and many of these computers don't have safeguards to protect against sudden drops and falls.The symptoms of a head crash include clicking sounds, whirring sounds, and other noises. A failed Fujitsu drive may fail to load, but the extent of the damage will certainly affect the failure symptoms. This type of failure requires treatment in a Class 5 clean room.
Microcode Issues – A hard drive's microcode includes hardware specifics such as the spindle speed, temperature calibration, head amplification compensation, optimal voice coil current, and other drive-specific information that cannot be recreated without specialized tools.When a Fujitsu drive encounters a firmware issue, it will often become completely inaccessible. It might also show incorrect drive info in the computer's BIOS or equivalent start-up interface. Datarecovery.com can access track-1 of the hard drive to work directly with microcode, often resulting in a full recovery.
Electronic Damage – Electronic issues can occur due to a damaged or faulty laptop power supply, a power surge, or for dozens of other reasons. Many laptops will not power on at all after an electronic failure, although some may present hard drive read/write issues. The symptoms of an electronic failure can mimic the symptoms of a head failure — and in many cases, the a Fujitsu laptop hard drive will sustain both types of damage following a major electronic event.
These aren't the only sources of failure, and we have also treated hundreds of drives that have lost data due to application errors and accidental formats. In any case, we can typically recover the data quickly; Datarecovery.com successfully recovers over 97 percent of legacy hard drives.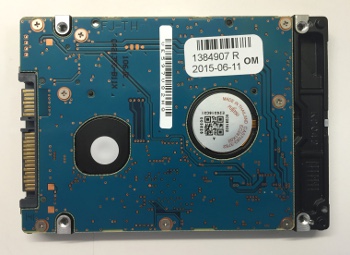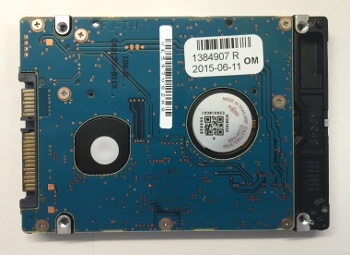 On October 1st of 2009, Fujitsu completely transferred its hard drive business to Toshiba, and subsequent models created with Fujitsu technology have carried the Toshiba brand name. However, Fujitsu still provides HDD-based devices, including laptops in the Lifebook series. Datarecovery.com provides options for every Fujitsu hard drive, including non-branded models in newer computers.
If you need data from a failed Fujitsu drive, it's extremely important to choose an experienced data recovery company. Inexperienced providers will not have the technology or resources necessary to treat advanced microcode issues, head failures, and other sources of damage, especially on older Fujitsu models. Datarecovery.com offers free evaluations and a no data, no charge guarantee with every case. Call us today at 1.800.237.4200 to get started.
*Fujitsu is a registered trademark of Fujitsu America, Inc.