Storage manufacturer SanDisk has officially launched its 1TB SanDisk Extreme microSDXC UHS-I card, the first microSDHC card to offer a terabyte of storage space.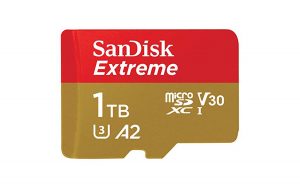 The card — unlike many other microSD cards in its class — offers fast read speeds of up to 160MB per second and write speeds of up to 90MB per second, although exact speeds will vary depending on a host of factors. That's nearly twice as fast as standard UHS-1 cards.
SanDisk offers a limited lifetime warranty in most countries and notes that their card is "temperature proof, water proof, shock proof, and x-ray proof."
Currently, the card is available on SanDisk's website for $449.99. Some third-party sites are selling it at slightly higher rates, and the large price tag will probably scare off average consumers; however, the card could be extremely useful for photographers and videographers, as microSDHC offers a number of advantages over hard drives and other traditional storage media. The fast read/write speeds are especially notable for professional applications.
With that said, we believe it's important to point out that larger microSD cards are not inherently better at resisting data loss than smaller cards. In fact, as form factors shrink, issues like data corruption often become more of an issue.
We haven't had a chance to test the terabyte version of this SanDisk microSD card in our laboratories, but we're ordering one now, and we commend SanDisk for the achievement. As larger cards hit the market, solid-state memory becomes more affordable for the average computer user, and this is certainly an exciting landmark.
Still, if you're planning on purchasing a SanDisk 1TB card (or any other large microSD device), keep these tips in mind:
Always backup important files as soon as possible.

Never trust any single device to store essential data. We recommend keeping at least one backup of vital data, especially pictures, videos, and other file types that can't be easily recreated.

Don't subject microSD media to extreme temperatures.

While SanDisk's new "Extreme" line of microSD cards are said to be temperature resistant to some extent, extreme weather can damage any digital device. Don't expose your expensive new card to the extremes. If the card gets too hot or cold, allow it to return to room temperature before attempting to access data.

Check your backups before deleting important data.

Because of the technologies used to store data on microSD media, deleted files are often gone forever (although a number of factors can affect this, including the software or hardware used to manage the media). Check your backups before taking any actions that could result in data loss.
And as we always note, if you lose data from a microSD card, don't panic. Stop trying to access the device and contact a qualified data recovery company as soon as possible. Most lost data is recoverable, and our facilities are equipped with state-of-the-art technology that allows for the best possible chances of recovery in any scenario. To learn more, call us at 1-800-237-4200 and ask to speak with a microSD data recovery specialist.