eRacks provides arrays and NAS devices for hundreds of companies, and they're known for supplying high capacity servers with a low incidence of failure. The company tests all hardware before they ship it in an intensive 72 hour process that prevents substandard hard drives or other components from compromising the integrity of a NAS device or server.
However, it's always possible for drives to fail simultaneously, and user error or configuration issues can cause data to become inaccessible. We offer full data recovery on all eRacks products, including NAS devices.
eRacks NAS Data Recovery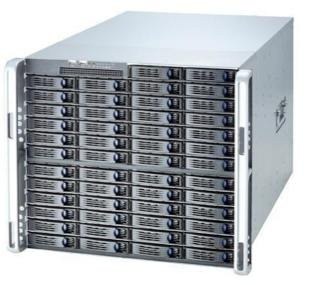 Each eRacks case must be carefully evaluated by our engineers in order to determine which recovery methods will result in the least downtime for your server. Many NAS cases can be recovered remotely, though if a server has several failed drives, in-lab recovery may be the only option. Remote recovery cases on eRacks NAS devices are handled by trained server recovery engineers.
Each engineer has worked on simulated and real server cases, and uses only nondestructive methods to recover lost data. By using block level access to your NAS device, we're able to fix server and hard drive corruption that can make the device inaccessible. The server usually only needs to be remounted to function properly. In some cases, we copy the data from your server to another storage medium (at your location) if serious issues require the device to be reinitialized. In-lab recovery processes differ on a case by case basis, but in general, failed drives are recovered in a safe class 5 clean room completely free from harmful contaminants.
The failed drives are then cloned, and the clones are used for the rest of the process. Data recovery engineers restore the NAS device or RAID array and fix any corruption in the data, resulting in a full recovery in most cases. Because data recovery methods vary so greatly, and because no two server issues are the same, you will need to speak to an engineer to develop a course of action and decide whether remote recovery is possible. In every case, we treat servers as quickly as possible, as downtime is a major issue for every company with a failed server.
eRacks NAS Error Messages
Error messages that indicate data failure will vary on eRacks systems depending on the installed operating environment. LEDs on eRacks NAS and DAS device can indicate drive failure and power issues, and should be investigated immediately.
The most common data recovery situations on eRacks devices result from improper rebuilds after one drive fails. Power issues can also be an issue, although redundant power supplies are available through the company; however, sudden cold booting of any server can result in corruption that can make data inaccessible.
Supported eRacks NAS Systems and Devices
We support data recovery on every eRacks device. Some of the more common eRacks arrays and NAS devices are listed below, but this is not a comprehensive list.  If your device is not included on this list, please contact an engineer to discuss data recovery options.
eRacks/NAS3
eRacks/NAS4
eRacks/NAS6
eRacks/NAS8
eRacks/NAS12
eRacks/NAS16
eRacks/NAS24
eRacks/NAS32
eRacks/NAS50
eRacks/ZIMBRA
eRacks/SNORT
eRacks/DNS
eRacks/MAIL
eRacks/MS1CT
eRacks/MS2UT
eRacks/TR4X
eRacks/MN4Lplus
eRacks/TR5M
eRacks/TR8X
eRacks/WEB
eRacks/ZOPE
eRacks/SSLW
eRacks/LITE
eRacks/STORE
eRacks Data Recovery Options
To maximize the chances of recovery, gather as much information about your device's failure and call a Datarecovery.com engineer immediately. Keep the device powered off until you speak to an engineer or an eRacks representative. Keep a log of any symptoms, and don't try to rebuild or reinitialize the server. Most eRacks cases are completely recoverable, but if you wait to start a case and pursue data recovery, chances of recovery decrease dramatically.
If your eRacks storage product has failed and you need reliable service to get your data back, please contact us by phone or email for more information or set up a case online.
*eRacks is a registered trademark of eRacks Open Source Systems and is not affiliated with Datarecovery.com, Inc. in any way. All product names, registered trademarks, and trademarks are the property of their respective owners.