Betacam video may display combing during the digitization process, which limits the usability of the converted media. 
In video production, "combing" refers to interlacing artifacts that occur during conversion. The most common cause of combing is an incorrect frame rate setting; the conversion software doesn't remove interlaced frames, which creates an unwanted effect.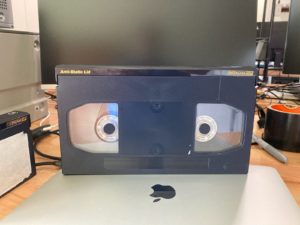 Like all deinterlacing issues, combing must be addressed during video capture — the goal is to get the highest possible quality of raw video, which ensures higher quality for compressed videos. Below, we'll explain the basics of analog Betacam video conversion. 
Datarecovery.com offers flexible solutions for digitizing Betacam tapes at scale. Our laboratories are equipped to repair damaged tapes, create custom video archive databases, and handle large conversion projects with fast turnaround times. For a free estimate, submit a case online or call us at 1-800-237-4200.
Interlacing Issues When Converting Analog Betacam to Digital
For analog Betacam tapes, combing can be avoided by capturing the video with the correct number of scan lines (scan lines describe the vertical resolution of the video). 
Analog standard-definition video typically has 525 or 576 interlaced active scan lines (written as "525i" or "576i," respectively). NTSC-standard Betacam is 525i, while PAL-standard is 576i. Digitally transmitted broadcasts of NTSC video reduce the scan lines to 480i. 
The best practice for preserving NTSC video quality (and avoiding combing) is to capture with the number of scan lines of the source with a resolution of 720×480 (NTSC) or 720×576 (PAL/SECAM) to comply with Sony's D-1 digital recording video standard. 
After completing a full scan, the video may be cropped to the desired size (704×480 for NTSC or 704×480 for PAL/SECAM) for archiving or broadcast. Because Betacam decks are expensive — and because the video conversion process can be time-consuming — the safest course of action is to maintain an uncompressed copy of important content.
Converting Analog Betacam at Scale
Professional video conversion requires extensive investments in hardware, software, and IT infrastructure. Many conversion services automatically compress videos, which limits quality — potentially resulting in additional conversion projects as technology improves.
Datarecovery.com is a leading provider of video conversion services for Betacam, Betacam SP, Betacam Digital, and U-Matic. With options for virtually all analog and digital formats, we're uniquely equipped to handle archive projects at scale. 
Our technicians can also repair damaged tape, restoring video with minimal signal loss. We've built custom video archive databases for broadcasters, churches, and other organizations, enabling users to quickly locate media by metadata (including date of recording, program name, or other parameters) or by content (speech is analyzed and transcribed using artificial intelligence). 
 Other features of our Betacam conversion services:
Flexible pricing and timeframes, enabling broadcasters to archive a defined set of tapes per week or per month

Tape quality analysis and full review of converted media

Options for converting to any digital format, including raw AVI

Comprehensive security and privacy controls for maintaining compliance
If you need to convert analog Betacam tapes to digital formats, Datarecovery.com can help. Contact us at 1-800-237-4200 for a free estimate or for more information.