Data Robotics is one of the more innovative server companies in the world today, and their main offering is a line of servers called "Drobo servers" with exceptional stability and versatility, available as RAID, SAN, or NAS.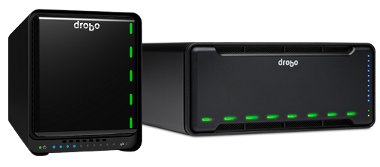 New generations of Data Robotics devices support a new mix of RAID levels that the company calls "beyond RAID" (stylized as BeyondRAID). It allows drives with different sizes to be set up in a RAID-like configuration, with redundancy that allows for up to three drive failures. The parity calculation varies depending on the size and number of member drives.
BeyondRAID makes Drobo devices extraordinarily flexible and easy to maintain.  It also presents some unique challenges for data recovery engineers, as data alignment and slippage can create significant obstructions.  Datarecovery.com has created special software utilities for Drobo to allow for extraordinary success rates when physical and logical issues occur.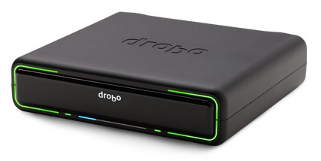 Current Drobo devices already provide typical types of redundancy, and several different configurations are supported to match the needs of customers. This has made Drobo devices a popular choice with home computing networks and small offices.
Data loss is rare on Data Robotics devices, as the built in redundancy helps users to avoid setbacks from issues like single drive failure. However, like any servers, it's possible for a Drobo box to fail completely or for several hard drives to fail before replacements can be made. We offer a full range of data recovery services on all Data Robotics products.
Planning the Drobo Data Recovery Process
The number, size, and configuration of drives in your Drobo server will have an enormous effect on the method of recovery that we use. Depending on the scenario, we'll require the drives to be shipped to one of our laboratories, where we use advanced data recovery techniques to recover any damaged hard drives in our class 5 clean room. A clone is made of each failed drive and each good drive; this allows us to employ various methods to recover the data without any risk to the disks. All of our methods are completely nondestructive.
Once the damaged hard drives have been recovered, the server is rebuilt on site using a combination of virtualization software and high-tech hardware. This allows us to address any corruption issues that may have occurred during (or before) the Drobo server's failure. In most cases, this results in a full recovery of all of the server's data. Recovered data is then transferred to return media.
Contact a Datarecovery.com engineer at 1.800.237.4200 to discuss options for your case.
List of Supported Devices for Drobo Data Recovery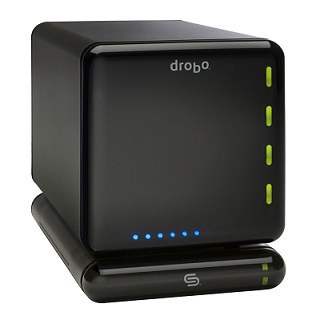 We offer data recovery for every Data Robotics device, including all Drobo servers. A partial list of supported servers is below.
Drobo Server
DroboElite
DroboPro
Drobo S
Drobo
Drobo 5D and 5N
Drobo Mini
Drobo B800fs
Drobo B800i
Drobo B1200i
Any Drobo server equipped with DroboShare (which allows NAS functionality)
Drobo RAID Error Messages
Error messages on Data Robotics devices vary depending on the operating system you use–one of the innovations of the Drobo system is that most of the drive administration is handled by the device itself, so users don't need to worry about any sort of monitoring software. The LEDs on the front of the Drobo are the best way to tell whether you're having problems with particular hard drives, overheating, etc.
In particular, watch for a blinking red LED, which indicates failure of one of the Drobo's hard drives. To avoid data loss, it's important to replace failed drives in a server as quickly as possible. If multiple drives have failed, the Drobo may not show data, and it may even fail to display on your system.
The RAID-similar setup provided by the systems can make Drobo data recovery complex, although chances of recovery are actually higher on Drobos than many more common devices. It's helpful to know as much information as possible, particularly the sizes of the disks attached to the Drobos and any information you have about when those disks were added to the system.
Data Robotics Data Recovery Tips
To maximize the chances of recovery and reduce your potential downtime (as well as costs), it's best to shut down your Data Robotics device as soon as data loss is present. This prevents accidental overwrites, and if a hardware failure contributed to the data loss, shutting down your server will stop the hardware's condition from worsening. You should never attempt to rebuild a failed NAS, SAN, or RAID if you're not sure about any of its symptoms or if more than a single hard drive is unresponsive.
Most Data Robotics cases result in a full data recovery. By providing our engineers with as much information as possible about the device and its symptoms, you can help to develop a unique plan for your recovery project that will work with your budget and time constraints.
Firmware or hardware failure
User error such as NAS re-configuration
Hard disk/SSD failure
Power problem or disconnection during firmware update
In almost every case above, it is entirely possible to recover the data with a success rate in our labs of more than 97%. Drobo devices support several different storage configurations, which provide the end-user with different data protection levels and different recovery chances after NAS failure. Multi-part storage: each drive has own dedicated file system that is mounted under dedicated 'share' folder. Single drive failure causes single 'share' folder loss.
Call 1.800.237.4200 for a free quote or for more information about Drobo RAID data recovery.
*Drobo is a registered trademark of Data Robotics, Inc. Data Robotics, Inc.. is not affiliated with Datarecovery.com, Inc. in any way. All product names, registered trademarks, and trademarks are the property of their respective owners.