Hurricane Irma is churning through the Caribbean and continues on a collision course with Florida. While meteorologists predict that the storm will lessen in intensity by the time it makes landfall in the U.S., its damage could still be catastrophic.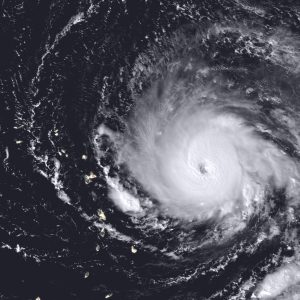 After any natural disaster, Datarecovery.com receives an influx of cases from business owners, government offices, and personal computer users who have lost data from damaged hard drives and servers. Even if a property avoids flooding, the sustained winds and rains of a hurricane can break windows and cause extensive water damage—especially to sensitive electronic equipment.
Luckily, data recovery experts can salvage data from most water-damaged devices. Though the electronics or sensitive mechanical parts may no longer function, the platters where information is stored may still be readable.
"Most problems we see are not as bad as one would think," says Ben Carmitchel, CEO of Datarecovery.com, Inc. "Modern drives are sealed off from air, often keeping the sensitive platters out of harm."
The key to data recovery is acting quickly and relying on experts. Attempting to dry or repair a hard drive yourself reduces the odds of recovering your data.
"When it comes to flood recovery, the faster we get the drive, the better the chances of recovery," Carmitchel says. "Every minute counts."
If your hard drive, server, or other device has suffered water damage, follow these steps:
Make sure that your computer is off and unplugged before touching any connected media.
Do not attempt to clean, dry, or repair a water-damaged device. Specialized equipment and expertise are necessary to clean and recover data from a hard drive or other media.
Call Datarecovery.com to speak to an engineer. Our experts can help determine the best course of action and advise you on how to best preserve your device for shipment.
We hope that Irma loses steam and dissipates before any more damage occurs. However, if it continues on its path and hits the U.S., Datarecovery.com is offering a 35 percent discount on all data recovery services.
Of course, avoiding data loss in the first place is preferable. If you can back up your essential data in the cloud or pack your hard drives when you evacuate, do so as soon as possible.
If you have data recovery needs because of Hurricane Irma or any other reason, call us at 1-800-237-4200 to discuss your options.