Coraid's line of servers offer scalable storage at a fairly low price, and recently they've introduced several cloud storage devices that hope to revolutionize the data industry.
But until cloud storage is widespread, inexpensive, and dependable, traditional storage systems are a better choice for many businesses, and Coraid's standard systems are a popular storage choice for large and small companies across the world. As with any hardware-based storage medium, there's always a possibility of data loss with a Coraid system. While redundancy options have helped to make Coraid systems exceptionally dependable, every system can fail.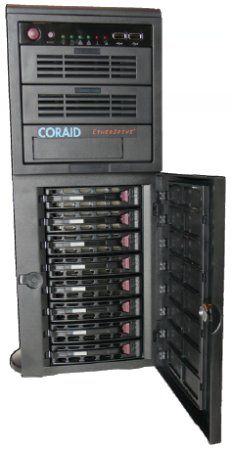 We offer data recovery on all Coraid NAS systems, as well as every storage device that the company offers. Here's an overview of our procedures, and how system administrators can recognize the need for data recovery on high-end Coraid systems.
Data Recovery Procedures for Coraid Servers
The procedures we use for the data recovery process can vary according to the exact configuration of your Coraid server. Coraid storage systems offer their users several RAID options, including RAID 0, 1, 5, 6, and 10 setups. The difference between a data recovery case for a RAID 5 and a RAID 0, for instance, can be quite distinct. Regardless, we begin by cloning all of the working drives in the array, and in most cases, we'll get a working clone of failed drives by working with the damaged media in our class 5  clean rooms (installed in each of our laboratories).
The array is recreated virtually, eliminating the need to receive the original hardware (other than the hard drives from the server). In most Coraid NAS and RAID cases, some amount of data is overwritten or corrupted during the server's failure, and engineers address each case's individual issues to restore all data to a working condition. Your data is then transferred to another medium such as an external hard drive or additional server drives and sent back overnight. A secure copy of data is kept until you've received and verified the recovered information; this prevents the possibility of a shipping or transfer error. Any copies of data are deleted immediately and securely once data has been appropriately verified.
We know that a storage system failure is a major event, and downtime is of incredible importance. Our engineers will do everything possible to expedite your case, and their experience with Coraid systems helps to keep our average turnaround time very low at around 5-7 days for standard services and only 1-2 days for Priority and Emergency services.
Signs of Data Loss On Coraid Storage Systems and Servers
The exact error messages and symptoms of data loss on a Coraid server will vary greatly depending on the server's configuration and in particular, its operating system and utilities. Alerts will often let you know if computers are unable to interact with the Coraid system; for instance, a popup alert in Windows 2003 Server notes a "delayed write error" (error event ID 26 or 51) when data can't be saved to your storage server. However, this alert could be caused by a number of different problems, from your Internet connection to failed hard drives to data corruption.
You should immediately check your Coraid event logs if you've seen any alerts or error messages in your operating system. Look for failed hard drives events, broken connections, reboots, etc. These can be valuable in diagnosing whether data recovery is necessary. You can also perform a visual inspection of your Coraid system to check whether hard drives have failed, or whether the system isn't responding correctly. Coraid systems have onboard LEDs that will flash red or yellow when problems are detected. Consult your Coraid server manual for further diagnostic information in relation to these LEDs.
Coraid server Coraid systems are designed to handle a single hard drive failure without compromising data, but multiple hard drive failures could potentially cause data loss. Data loss can also occur due to an improperly handled rebuild. Note any errors that occur if you rebuild your array, and don't try to re-attempt a failed rebuild without contacting a Datarecovery.com engineer or Coraid support.
Note that some Coraid systems offer double parity, further reducing the chance that multiple hard drive failures could bring down the system. Even in these systems, an improperly handled rebuild could overwrite data. Extreme caution and precision should be used when replacing a drive in any RAID system, including all Coraid devices.
Supported Coraid Storage Systems for NAS Recovery
As mentioned earlier, we offer data recovery on all Coraid storage servers, including the following:
SR431
SR821
SR1621
SR2421
SRX2800
SRX3200
SRX3500
Coraid EtherDrive Series (ZX, SRX, EX, etc.)
NAS Gateways & Attached SAN Devices
Any Other Primary or Secondary Storage Devices from Coraid
If your Coraid system is not listed above, contact us by calling the number located at the bottom of this page.
Exploring Available Coraid Data Recovery Options
If your Coraid system is not responding or if files and folders aren't displaying correctly, it's important to shut down the system immediately. This is especially true if a failed rebuild of the array could have potentially caused the data loss; any attempt to work within the system after a failed rebuild can result in overwritten data, which can be very difficult to recover.
Call a data recovery engineer at DataRecovery.com to discuss your case; be sure to know how many drives are in your Coraid system, its RAID configuration, the location of missing files, etc. This will help the engineer deliver an accurate preliminary quote for cost and turnaround time. All of our processes are nondestructive, and we offer a no data, no charge feature for every case.
Call us now at 1.800.237.4200 for a free consultation.
*Coraid and the model names mentioned above are trademarks or registered trademarks of Coraid, Inc. Coraid, Inc. is not affiliated with Datarecovery.com, Inc. in any way. All product names, registered trademarks, and trademarks are the property of its respective ow