Introduced in 1986, Betacam SP (also called Beta SP) quickly became the default standard for professional video post-production. The format offered several key improvements over the original Betacam, and Beta SP cassettes could accommodate 90 minutes of high-quality recording.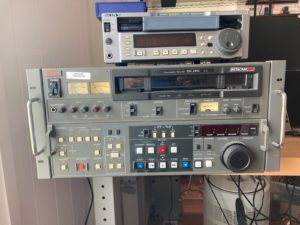 Since 2010, many TV stations and other professional production houses have switched to digital formats. Unfortunately, for organizations with extensive Betacam SP archives, the clock is ticking: All analog video formats degrade over time, eventually leading to signal loss. 
While Beta SP is metal-formulated tape (as opposed to oxide), it requires excellent storage conditions to ensure audiovisual integrity. Converting Betacam SP to digital formats can provide significant advantages:
Easier organization for video archives

A smaller physical footprint

Protection against tape decay and other media damage

More flexibility for editing and broadcasting videos

Easier compliance with some data retention laws
Datarecovery.com offers professional Betacam SP conversion services. Our process is scalable and affordable, and by maintaining a large library of Betacam hardware, we're able to provide fast turnaround times — even for large archive projects. 
Below, we'll discuss some of the challenges of Betacam SP conversion. To get a free estimate, call 1-800-237-4200 or click here to set up a case online.
Betacam SP to Digital Conversion: 4 Important Factors 
At scale (100 or more tapes), Betacam SP conversion projects present several unique issues.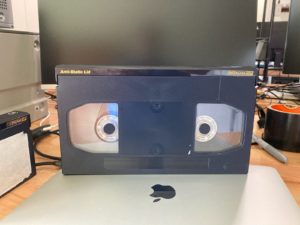 Most video production facilities have limited access to the necessary hardware for conversion — and assigning an in-house team can limit their bandwidth, greatly expanding the soft costs of the project. Additionally, the conversion will need to retain the original media at lossless quality, and the files will need to be organized in a clear, consistent manner.
Here's a closer look at how these challenges can affect outcomes.
1. Digital Conversion Quality 
Consumer video conversion services typically compress files before delivery. The advantages of compression are considerable — after all, few consumers would notice the difference between an MP4 and an AVI.
However, when preserving video archives, quality matters. Betacam SP is an analog format, and if the purpose of the project is to archive older cassettes for posterity, the media should be returned in a lossless format. 
Datarecovery.com can provide files in any format — including true lossless formats — and we work closely with our clients to choose the right settings for each project.
2. Presence of Media Damage 
Over time, all physical media fails. Betacam SP cassettes may need to be respooled or repaired, and in some cases, extensive media recovery may be necessary. 
Datarecovery.com operates certified cleanrooms at each of our locations. Whether your media needs to be recased or painstakingly repaired, we offer non-destructive options for ensuring the best possible image and audio output.
3. Sourcing Betacam SP Hardware 
Betacam SP hardware is available on auction websites for around $200-400 — but many older cassette players have serious functional issues that could compromise the integrity of your tapes. Additionally, if you intend to convert Beta SP cassettes at scale, you'll need an entire fleet of cassette players, which can quickly expand the project's scope and budget.
We maintain a hardware library with dedicated video decks for Betacam, Betacam SP, U-matic, and other legacy formats. By investing in hardware and performing a detailed inspection of each video deck prior to each project, we're able to keep conversion within reasonable time frames, regardless of the size of your archives.
4. Organizing the Recovered Media 
The process of video conversion doesn't end when the master copies are delivered. Betacam SP cassettes may hold important media, but if you're unable to identify the contents of each file, you'll need to manually check the videos before cataloging them. Needless to say, this is a crucial concern for larger projects.
Datarecovery.com can create proprietary databases of recovered media, enabling archivists to search for individual tapes based on the date of recording, program name, or even by the content itself. 
Through machine learning, audio can be transcribed and cataloged via voice recognition, greatly reducing the time needed to locate specific content. 
Trust the Leader in Betacam SP Conversion
Datarecovery.com provides comprehensive resources for Betacam SP conversion. We specialize in handling larger projects and media restoration requests, and by leveraging our analog & digital media experience with best-in-class digitizers and encoding technology, we help production houses move to current-generation formats without sacrificing quality.
Get a quote for your Betacam SP conversion project. Call 1-800-237-4200 to discuss options.