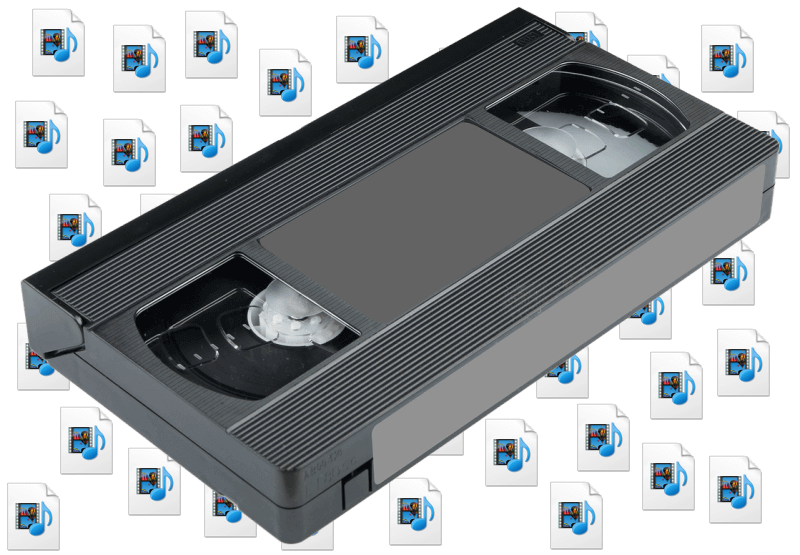 The VCRs of the world are breaking down. Functioning film projectors are increasingly hard to find. Tapes and film degrade with every viewing. To preserve your analog video collection — and to share it in digital channels, from Facebook to the cloud — you need to convert your tapes and films to a digital format.
That's easier said than done, given the loss associated with poor quality analog-to-digital conversions. Even with functioning playback equipment and a consumer video-converting device, you can't be sure your treasured memories, legal records, or historical touchpoints will make the transition to digital without loss of quality.
The solution is to rely on professionals like Datarecovery.com. But how can you be sure you're choosing the right analog-to-digital service? Find out by asking these questions — and listening for these answers.
What are the benefits of converting analog video to digital?
If you're seeking out an analog-to-digital conversion service, you probably know why. But so should the experts. At Datarecovery.com, our technicians understand that analog-to-digital conversion is first and foremost an exercise in preservation. Film degrades over time as the plastic decays; video tapes lose their magnetization. Digital records don't share these hazards.
Dedicated analog-to-digital professionals understand that you want to preserve your content forever, and that means it's vitally important, whether that's for legal purposes (retention orders, for instance) or a record of family lore. We treat every tape, film reel, and photograph like it's our own, with protection of source material remaining our first priority.
What video media can you digitize?
Analog video formats have changed over the decades, and you may wish to digitize anything from an 8 millimeter film reel to a Betamax video cassette. Make sure your provider has the equipment — and the expertise — to digitize your media without loss of quality. At DataRecovery.com, we cover every common video media of the 20th century, including:
VHS and VHS-C video cassettes
Betamax tapes
Video8 and Hi8 videotapes
Film reels, including 8 mm, 16 mm, and Super 8
And more; ask about your media
In addition to these common video formats, our technicians digitize analog media from audio recordings to photographs, including slides and negatives. We can also move digital formats like MiniDV, DVDs, and MiniDVDs to streaming formats.
Can you digitize damaged film or video?
Your tapes and films may have already suffered some signal loss, but that doesn't mean they can't be digitally preserved. Film recovery engineers at Datarecovery.com can often save damaged video media, including tapes and films that haven't worked in a legacy playback device for years. Depending on the type and extent of the degradation, engineers may be able to recover part or all of your damaged analog media.
How will I be able to access my digital videos?
How do you plan to view or share your digitized videos? If you'd like to share the content online, you'll need sharable digital files stored on the cloud. If you simply plan to watch the content on your television or personal computer, you may prefer a DVD or thumb drive. Ask analog-to-digital conversion providers how they deliver digitized content. At Datarecovery.com, we offer your choice of options, from physical media like DVDs and thumb drives to a range of online file formats — or all of the above.    
What equipment and experience do you bring to analog-to-digital conversions?
Some digitizing services get by with older equipment, producing lossy digital video or failing to recover damaged content. Others have new gear, but lack the experience to handle complications or rare media types. At Datarecovery.com, we've been restoring and digitizing analog content since 1997. Our expert engineers maintain a large collection of legacy playback equipment as well as advanced digitizing technologies that ensure a top-quality video transfer every time.
Will I get my original tapes or films back after the digital transfer?
Typically, analog-to-digital conversion companies ask you to mail your media to the lab. There's not always a guarantee that you'll get your originals back on completion of the digitization. When you work with Datarecovery.com, we take special care to protect and return all analog media when we're done, preserving originals while providing digital copies you can watch again and again without degrading the source.
When converting analog video to digital formats, the team at Datarecovery.com keeps the focus on the highest possible quality. With more than two decades of experience recovering and digitizing analog content, our engineers excel at preserving your irreplaceable videos and films. To learn more, call Datarecovery.com at 1-800-237-4200 or fill out this form for a free quote.