Factors That Affect Apple Xserve Data Recovery
Apple's Xserve utilizes a wide variety of RAID levels, and Datarecovery.com offers services for every configuration.
The most common configuration is a standard stripe set with parity ( RAID 5). The default RAID stripe size is 64k (128 sectors), and data is striped across all of the disks with a parity block that rotates between the drives; this parity block uses the XOR algorithm.
If one disk fails in a standard RAID 5, the RAID controller card can default to degraded mode and the server can continue to operate without interruption. Data recovery may be necessary if there is corruption within essential parity blocks or if a second drive fails while the array is operating in a degraded state. Additional data loss issues include failed firmware upgrades, RAID controller card failures, and natural disasters.
Xserve also supports hardware RAID levels 0, 1, 3, and 0+1. RAID levels 10, 30, and 50 are available, but these levels must be supported supported using host-based software RAID. Our engineers have experience with every configuration, including options not supported by Xserve hardware, and each of our laboratories is completely outfitted for Xserve data recovery.
If you have an Apple Xserve and you need to recover key files after a failure, contact us right away at 1.800.237.4200 to discuss options.
Real Laboratories for Xserve RAID Data Recovery
To keep your downtime to a minimum, we will work closely with your IT staff to create a case-appropriate recovery and reintegration plan. In some circumstances, this can include on-site recovery at your location or remote data recovery. We recognize that Xserve systems play a critical role in your business's operation, and our experience with various Xserve models allows for a RAID recovery success rate of 95 percent (dependent on scenario, RAID level, and other factors).
Datarecovery.com operates fully outfitted laboratories – unlike our competitors, we do not receive your media and immediately outsource it to another facility.  With locations throughout the United States and Canada, we can quickly gain access to your RAID media and begin working on your case. We create full clones of every drive in the array before performing data recovery, and our Apple specialists can create software on-the-fly to address your server's specific needs.
Datarecovery.com's Xserve technology is unparalleled, and we're always available to provide a free consultation. Call us now at 1.800.237.4200 and ask to speak with an Xserve expert.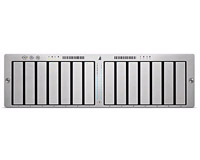 Apple Xserve RAID
*Xserve is a registered trademark of Apple Computer, Inc. Datarecovery.com, Inc. is not affiliated with Apple Computer, Inc. All images herein are property of Apple Computer, Inc.