In order to recover data from a physically damaged hard drive, engineers need to return the drive to a working condition. That's easier said than done — hard drive components are extremely drive-specific. In some cases, drives with identical model numbers will have incompatible components.
Every professional data recovery firm needs to maintain a hard drive parts inventory. Otherwise, providing quick turnaround times is practically impossible — and if a data recovery firm orders a unique "donor" drive for every single case, that usually means that they're overcharging their clients.
Datarecovery.com maintains the industry's most extensive storage media inventory with tens of thousands of hard drives, solid-state drives, and other devices. Below, we'll showcase a few pictures of a portion of our inventory, taken at our Edwardsville location. We'll also explain how our engineers use our inventory to deliver better results for our clients.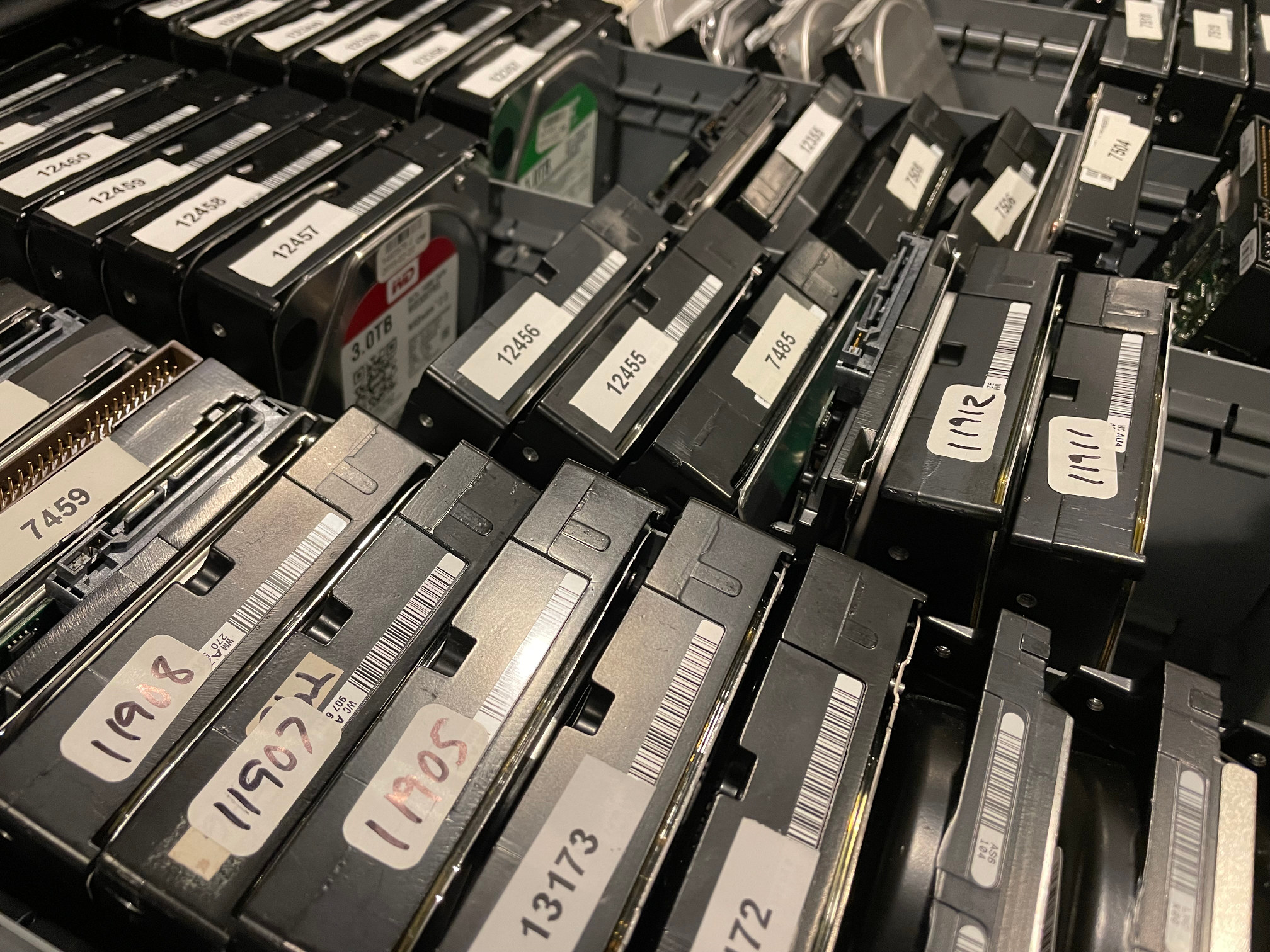 A Searchable Resource for Hard Drive Components
If your hard drive's actuator heads fail, engineers will need another set of actuator heads — and in some cases, a new printed circuit board (PCB), a new spindle, or other components.
To find parts that work, engineers need a quick way to find exactly what they're looking for. That can change depending on the drive's brand, architecture, and model.
Adding to the difficulty: Most hard drive vendors aren't selling storage media for use in data recovery. Vendors typically won't include parameters like firmware revision number or part number, which are important to an engineer but unimportant for other users.
If a vendor does provide highly specific parameters, they're marketing their products towards the data recovery industry — and a single hard drive might cost hundreds of dollars. At Datarecovery.com, we work to keep our pricing affordable. While we don't charge clients for parts fees, we have strong incentives to keep rates low by limiting unnecessary expenses and passing on the savings to our clients.
With that in mind, we track our entire hard drive parts inventory with a custom-built database. When engineers add a drive to our media library, they enter information about each key parameter, along with notes about the drive's overall condition.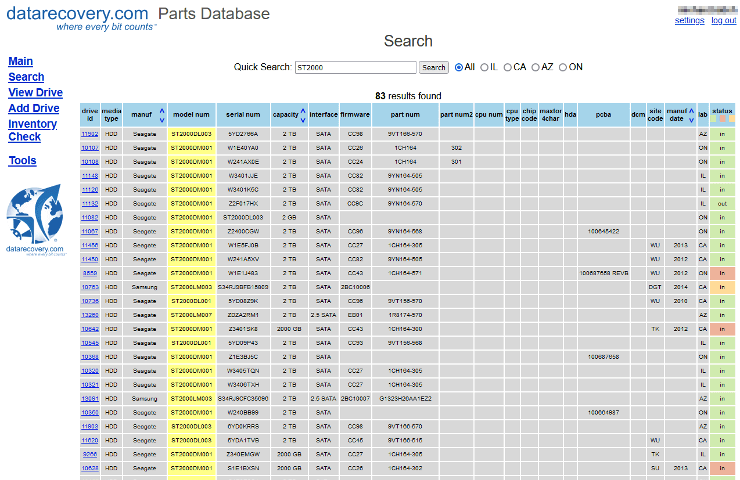 Some of the factors we track in our system include:
Manufacture date and firmware revision number
Drive condition (including a list of functional components)
Serial number, model, and capacity
Interface (typically SATA, IDE, or SCSI)
Media type (hard drives, solid-state drives, hybrid drives, or other)
The number of platters and actuator heads, which sometimes varies within a product lineup or model number
CPU parameters related to the processor on the board of the drive
Part numbers (which can indicate different values depending on the drive's brand and model number)
This isn't a complete list. Our library database stores 20 distinct points of information, along with detailed notes from engineers describing the specific parameters of each hard drive.
Each Datarecovery.com laboratory has a dedicated parts inventory
Unlike other providers, we maintain fully outfitted laboratories at all four of our locations. Our objective is to treat each case efficiently while ensuring the best possible results for our customers — that means treating every case in the laboratory where it was received.
Each lab has its own storage media library, and we track inventory through our shared database. While each laboratory is well-supplied with common donor drives from major manufacturers, our engineers can also follow an established process to request overnight delivery of donors for another lab when necessary.

We also maintain relationships with a number of vendors and manufacturers to limit the time we spend sourcing parts for rare devices. In other words, if one of our laboratories doesn't have an essential component from a hard-to-find drive, we can typically find a donor within a day or two.
Constant Replenishment: Maintaining Our Data Recovery Parts Inventory
While we're always prepared to order parts for an unusual case, our engineers don't enjoy waiting 3-4 days for USPS deliveries (and neither do our clients). We allocate a large portion of our annual budget to keeping our parts library well-stocked with common and rare models from every major brand.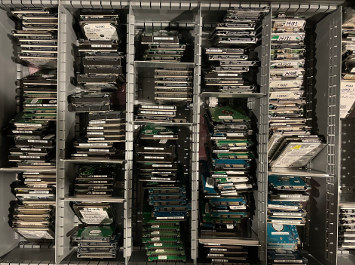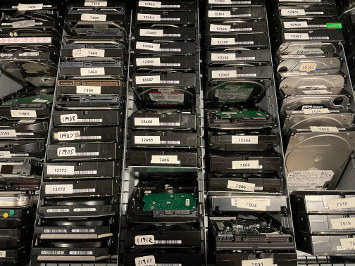 In addition to vendors, we have another resource for maintaining our library: unwanted hard drives from our clients and partners.
At the end of our hard drive data recovery process, most of our clients have no interest in receiving their original media. Those drives aren't reliably functional — all repairs completed during the data recovery process are temporary at best, so we return all data on new media designated for the purpose.
With our clients' permission, we offer secure media destruction services, which use National Institute of Standards and Technology (NIST) sanitization methodologies to demagnetize and permanently erase the damaged media. After data has been securely destroyed — and after the original drives have been evaluated thoroughly to ensure that they do not contain any data from previous clients — we move the parts from the damaged hard drives back into our inventory. This approach allows us to grow our parts library and maintain low costs for our services.
With free hard drive evaluations, industry-leading technology, and a comprehensive no data, no charge guarantee, Datarecovery.com is a worldwide leader in professional data recovery services. Learn more by calling us at 1-800-237-4200 or click here for a free quote.