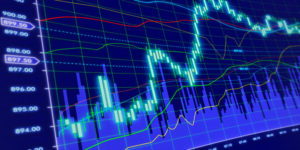 July 20th, 2020
It seems the technology industry only grows more vast with each passing day. The word "tech" encapsulates a whole slew of different goods, services, and businesses like computer software, information technology (IT), electronics, network security, hardware, artificial intelligence, and — especially as of late due to the onset of the Covid-19 pandemic — cutting-edge and life-saving medical equipment. Not only are there countless tech stocks to choose from, but the sector itself sees some of the largest market capitalizations the world over (think companies like Apple and Google).
For this reason, the simple act of wanting to invest in tech stocks becomes a lot more daunting than it might seem at first. What areas of the technology industry are currently booming? Where should you begin with your investments? To find the answer to these questions, look to this compilation of today's most promising tech stocks — Everyone from first-time investors to seasoned stock market aficionados could benefit from this round-up of this week's most interesting and exciting tech stocks on the market.
Microsoft Corp. (MSFT)
While Microsoft might be most well-known for their developing, manufacturing, and selling of computers, the corporation and all their subsets prove to be much more expansive than simple desktop hardware. On the whole, the Microsoft Corp. rakes in over a hundred billion dollars in revenue annually from its wide range of products and services like Windows software, the Microsoft Office suite, Skype, Xbox, LinkedIn, Outlook, and plenty of others.
Quoted as saying that the novel coronavirus had nothing more than a small impact on their overall revenue, stock in Microsoft Corp. will hopefully continue to be a safe bet for the weeks and months to come.
NortonLifeLock Inc. (NLOK)
While Norton and LifeLock have both been around for years now, their recent amalgamation back in November of 2019 has turned the two separate forces into an incredible powerhouse for cybersecurity software and services. A one-stop source for protection of identity and electronic devices, online privacy, and home networks, NortonLifeLock Inc. has seen a lot of promising growth in the last quarter — a good sign for investors, because it shows that not even a global pandemic can detrimentally hinder profits.
To be more specific, in the last quarter alone, NortonLifeLock Inc. has seen an increase in earnings per share of 620%. If this trend continues, purchasing stock in NLOK could be quite the worthy investment.
Coupa Software Inc. (COUP)
Based in California but spread throughout Latin America, Asia Pacific, and Europe, the goal of Coupa Software Inc. is to help large companies keep track and keep control of the money and resources they're spending (a service known as Business Spend Management, or BSM). While the name Coupa might not be as instantly-recognizable as Microsoft or NortonLifeLock, this company is not one to be ignored. Just take a look at their market summary to see why.
After a slight dip around the arrival of Covid-19, COUP stock has seen spectacular growth since March (and they're showing no signs of slowing down, either). It seems that Coupa Software and their global technology platform would make for yet another solid addition to both budding and seasoned stock portfolios alike.
NVIDIA Corp. (NVDA)
No matter if it's gaming, artificial intelligence, professional visualization, data centers, or auto tech, NVIDIA is a name synonymous with developing groundbreaking technology. For example, most recently, NVIDIA announced NVIDIA Jarvis: a a brand-new platform intended to aid artificial intelligence programmers in the use of video and speech data to create what is known as conversational AI. This artificially-intelligent tech has the potential to create realistic conversations for anything from telemedicine customer service call centers.
Since the announcement of NVIDIA Jarvis in late May, NVIDIA has continued to show a massive amount of momentum — throughout the past year, investors have seen a 12-month trailing total return of 155.5%. There's no doubt that stock in NVIDIA Corp. will continue to grow in value exponentially in the weeks and months to come.
Veeva Systems Inc. (VEEV)
While Veeva Systems has been at the forefront of the software sector for quite some time now, stock in the cloud software technology provider continues to show an increasingly strong track record as time goes on. Tailored to the pharmaceutical and life science industries, Veeva Systems aims to provide cloud-based business solutions to companies like Bayer, Gilead Sciences, and GSK. They went public back in 2013, and in the seven years since, they've managed to garner a market capitalization of 35 billion dollars.
Because the response to Covid-19 and the search for an effective vaccine is directly linked to the pharmaceutical and life science industries, you can be certain that Veeva Systems Inc. will only continue to grow in importance going forward. (CEO Peter Gassner even mentioned to CNBC that Veeva was working directly with customers to develop testing, treatment, and vaccines for the novel coronavirus.) With all this in mind, it seems wise to keep Veeva Systems Inc. on your radar this week and in the weeks to come.
The Bottom Line
The opportunity to invest in tech stocks means giving investors the chance to be a part of the latest and greatest technologies currently being developed in our world. From those on the forefront of innovation to those on the front lines of the global fight against the novel coronavirus pandemic to those who simply provide us with new ways to play video games, watch TV, or stream movies, tech companies across the planet play an essential role in the way our society operates.
These five tech stocks are just the tip of the iceberg — They are undoubtedly the ones worth watching this week, but the stock market is notorious for throwing screwballs at any given moment. By next week, there will be new tech stocks that demand your attention. Until then, consider taking a deeper dive into each one of the handful of great opportunities we've put togeter above.
Notice: Information contained herein should not be construed as an offer, solicitation, or recommendation to buy or sell securities. The information has been obtained from sources we believe to be reliable; however, no guarantee is made or implied with respect to its accuracy, timeliness, or completeness. Authors may own the stocks they discuss. The information and content are subject to change without notice.