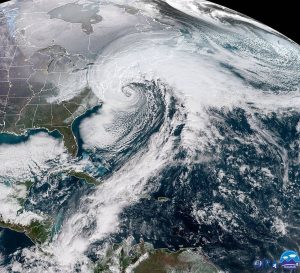 Winter Storm Grayson pummeled the U.S. East Coast with ice and snow from Florida to Maine last week. The blizzard left power outages, flooding, and frigid temperatures in its wake, killing at least 22 people and causing significant property damage.
From historic high tides in Boston to snow in Tallahassee, this extreme weather event wreaked havoc in coastal states. Floods occurred in North Carolina, New Hampshire, Massachusetts, Maine, and even two Norwegian cruise ships passing through the storm.
For those who fled for higher ground, they returned to find property — including computers and hard drives —  damaged by severe flooding. In spite of historic amounts of snow, insurers believe that flooding damages will outweigh snow-related ones.
While data loss may be a secondary concern to those impacted by the weather, losing sentimental photos and valuable files is still frustrating. Because of this, Datarecovery.com is offering free data recovery services (not including shipping and parts) to all personal computer users with devices affected by the recent coastal flooding (and if you were unlucky enough to be onboard one of the affected cruise ships, we'll cover you, too). Affected businesses are eligible for a 35 percent discount.
If your hard drive, server, or other device has suffered water damage, follow these steps:
Make sure that your computer is off and unplugged before touching any connected media. Water-damaged devices may have live electrical connections, so exercise caution.
Do not attempt to clean or repair a damaged device. Specialized equipment and expertise are necessary to clean and recover data from a hard drive or other media.
Do not attempt to dry water-damaged hard drives. All cleaning procedures should be completed in a controlled environment to ensure the highest probability of data recovery.
Call Datarecovery.com to speak to an engineer. Our experts can help determine the best course of action and advise you on how to best preserve your device for shipment.
The platters of a hard drive are sealed off, so even a waterlogged device may contain recoverable data. Datarecovery.com uses ISO 5 cleanroom technology and other specialized tools to recover information from water-damaged drives. Media can continue to degrade after the initial damage, so don't delay in contacting a professional.
If you or your business has been affected by flooding from the recent blizzard, contact Datarecovery.com at 1-800-237-4200 to speak to an engineer and start a case.