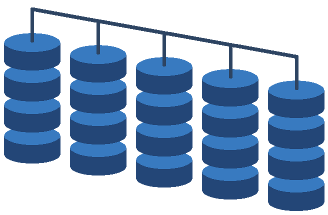 Recover RAID data without the downtime.  Lost files mean lost resources – in some cases, a sudden server failure could mean weeks of lost productivity.
Our RAID data recovery services have been developed through decades of combined experience, innovative methods, and the highest standards of excellence in the industry.
If you have a RAID failure of any kind, please read about the features of services below and contact an engineer at 1.800.237.4200 to start a case.
Datarecovery.com offers:
A Single Point Of Contact. Know who you'll be speaking to every time you pick up the phone. A dedicated customer service contact will understand the details of your case and provide fast answers to your questions.
The Fastest Recovery Speed Available. Multiple highly-trained engineers working on each case and ongoing training keeps our RAID teams faster than the competition.When turnaround time is a critical factor, our emergency service puts a team of qualified engineers on your case for 24 hours a day until the recovery is complete.
Anytime Updates™. Stay informed as your case progresses.  We offer a 24/7 online instant update system which allows you to see engineering notes as they're updated. You can also get more information at any time by calling your dedicated representative.
Unequaled Experience. Since our inception in 1997, Datarecovery.com has recovered data from all types, configurations, and levels of RAID. We have worked with every major controller card, every brand of hard drive, and thousands of different recovery scenarios.

Our RAID Data Recovery Process
Every case follows this four-step process:
Evaluation. Each RAID is evaluated at one of our facilities and a recovery strategy is formed. Free standard evaluations are available for many RAID devices.
Review. You are provided with an evaluation report from your dedicated contact. We provide a price quote and turnaround time, with different options available to match your needs.
Recovery. When a RAID recovery is approved, it is immediately moved into our RAID recovery area. If one or several of the drives in the array are suffering from a physical failure, such as a head crash or spindle problem, our data recovery engineers will correct each issue before the drives move into the next stage.We recover all RAID arrays using 100 percent nondestructive methods.
Return. Once your case is recovered, your data is copied onto an external hard drive or other form of media and sent overnight back to you.
For more information or to start your RAID data recovery, call Datarecovery.com now at 1.800.237.4200.