Tips on Finding the Best Data Recovery Company
Data loss affects everyone, and if you can't recreate your files and you don't have a backup, a professional data recovery company is an excellent resource. However, you need to be careful to choose a company that is qualified to handle your case.
At Datarecovery.com, we encourage our clients to explore all of their options. Whether you choose to work with us or another company, our goal is to provide a positive experience, and these tips will help you to compare costs, capabilities, and other service features as you do your research.
The ideal data recovery company should have: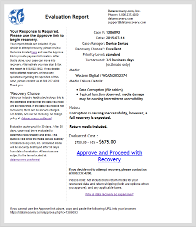 Free Evaluations. If your drive has been opened by another data recovery center or if it was severely damaged in a fire or flood, expect to pay a nominal evaluation fee. However, other standard cases should receive free evaluations. The purpose of the evaluation is to determine a price for your recovery, and a free analysis ensures that you won't pay if you cannot afford the services.
A No Data, No Charge Guarantee. You shouldn't pay any service charge if your data isn't recoverable. Ask about guarantees and read your provider's terms of service carefully.
Appropriate Technology. No data recovery company can function effectively without a Class 5 clean room, firmware repair tools, and other high-end technology. Ask about technology. Remember, data recovery is a highly specialized field, and your local computer repair shop won't have the necessary tools to provide safe services; our laboratories have hundreds of thousands of dollars of equipment, and every process we undertake is completely non-destructive.
Appropriate Security. Will your data recovery provider look through your recovered files? Ask about privacy policies. The best data recovery companies have well-established policies to prevent lab personnel from accessing or copying files. Our engineers rarely open files, instead checking recoveries with dedicated tools, and we always obtain your permission before doing so.
Have any other questions? Call us at 1.800.237.4200 to speak with one of our customer service team members.